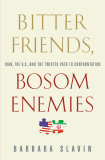 Bitter Friends, Bosom Enemies:
Iran, the U.S. and the Twisted Path to Confrontation
Bitter Friends, Bosom Enemies recounts the troubled history of the United States and Iran, with a focus on the last ten years of missed opportunities for reconciliation and cooperation. It breaks new ground in describing the Clinton administration's failed efforts to improve relations and the Bush administration's rejection of serious Iranian overtures in the aftermath of the 9-11 attacks. Instead of dividing our enemies, Bush policies have united them, with frightening consequences for the entire Middle East. The book draws on six trips to Iran over the past decade, interviews with top Iranian decisionmakers -- including the current and last two presidents of Iran -- and access to U.S. decisionmakers, including Condoleezza Rice and Colin Powell. It also contains chapters on Iran's nuclear program and the key constituencies in Iranian politics, including the Revolutionary Guards, the clerics and Iranian youth. A must-read for anyone trying to understand Iran and what U.S. policy toward that country should be.
Available at Amazon.com, BarnesAndNoble.com and other booksellers.
Reviews:
The Atlantic Council:
"Iran, Afghanistan and South Asia: Resolving Regional Sources of Instability"
"U.S.-Iran Cultural Engagement: A Cost Effective Boon to U.S. National Security"
"Time to Move from Tactics to Strategy on Iran"
"How Reliable is Intelligence on Iran's Nuclear Program?"
U.S. Institute of Peace:
"Mullahs, Money, and Militias"
Al-Monitor.com:
"Rouhani faces tougher audience at UN this year"
"IAEA Report on Past Iran Nuclear Research May Hamstring Deal"
"US, Iran Try Volleyball Diplomacy"
More stories by Barbara Slavin are available at Al-Monitor.com.
Politico:
"34 Years of Getting to No with Iran"
Voice of America:
"Column: 'Islamic State' Benefits From Opponents' Conflicting Agendas"
"Column: Plan B for an Iran Nuclear Deal?"
"Column: Tehran Politics Constrain Nuclear Talks"
"Column: If Maliki Can Go, Why Not Assad?"
More columns by Barbara Slavin available at voanews.com.
Foreign Policy:
"The Incredible Shrinking Ahmadinejad"
USA Today:
Archives of stories by Barbara Slavin are available on the USA Today website.